Booking the Dad Horse Experience
It's entertaining. It's unique. It's inspirational. It's fun.
The Dad Horse Experience' orginal song repertoire covers different styles from Singer/songwriter, Chanson, Country gospel, Oom-pah-pah polka up to Garage Blues & Punk & could easily match the need & mood of any given crowd.
In 2019 the Dad Horse XP turned from a solo project to a full blown collective of excellent and award-winning instrumentalists to build up a powerful live set includinmg instruments like banjo, guitra, violin, bass,  mandoline,  wind instruments and drums.
Dad Horse XP - solo/small cast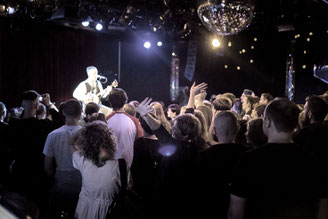 Surreal Country from Chanson to Punk & back to the belly or right between the eyes. Works in a seated café or theatre as well as in a rowdy-crowdy club or tent, artsy-partsy house concert, somber wedding party or funeral. Dad's playing tenor banjo, electric tenor guitar, mandoline, bass pedal & kazoo, alone or accompanied by violin, bass, acoustic guitar and/or small drum set, singing & telling weird stories on top.
On request with own sound system - only needs an electric plug (working) then.