Keller-Country from the Left of Heaven
or European Underground with American Roots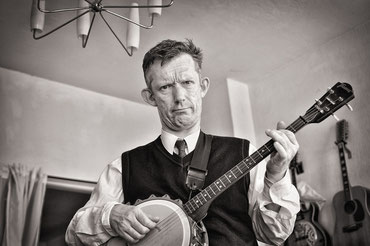 At the age of 40 Germany-based DAD HORSE OTTN started playing music on a tenor banjo given to him as a gift. Drawing inspiration from Appalachian music and the abysses of his soul, he invented a genuine mixture of country gospel, singer / songwriter, punk rock, and oompah-pah polka labeled as "Keller-Country."
Under the moniker THE DAD HORSE EXPERIENCE he started travelling the world as a One-Man-Gesamtkunstwerk in 2008. Singing his mysterious and otherworldly songs with banjo, mandolin, bass-pedal, and kazoo, he tells bizarre and twisted stories about guilt, redemption, and the merchandise tables of heaven.
With his thick German accent and decidedly original take on Americana, he could gain a respectable fan base worldwide, especially in the United States, home of country and gospel. After his song "Gates of Heaven", about a man requesting admittance to heaven to see his late mother, has been featured on a sampler by dark roots label Devil's Ruin Records, the song became a kind of anthem for the Muddy Roots scene, which appreciates traditional bluegrass and folk as well as noisy punk rock. With its hefty refrain, "Lord, I'm a badass motherfucker / But won't you please let me in?" this quirky gem is sung widely around campfire parties in West Virginia to Indie rock festivals in California. The song is close to becoming part of the Great American Songbook.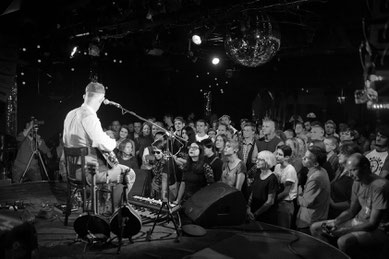 Music aficionados on both sides of the Atlantic wonder what's shaking here in the music of THE DAD HORSE EXPERIENCE: Hasil Adkins or Washington Phillips? William S. Burroughs or Søren Kierkegaard? Hank Williams or Wum, the banjo-playing dog of 1970s German television?
It's too limiting to view DAD HORSE OTTN solely as a musician. During his live performances the man with the great black humor readily tells stories both intriguing and mystifying. He switches easily from abyssal sadness to anarchic witticism. With his surreal and twisted style DAD HORSE OTTN has established a worldwide reputation as a genuine European and authentic interpreter of the American gospel & country tradition.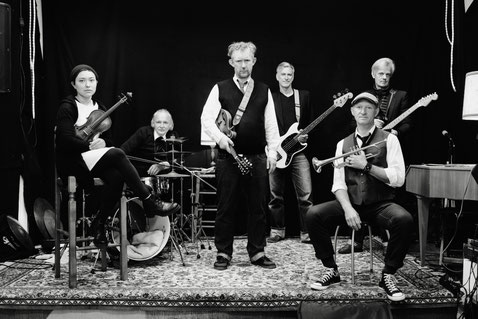 In 2019 the Dad Horse XP  turned from a solo project to a full blown collective of excellent and award-winning instrumentalists to build up a powerful live set with different casts from 3 to seven.
Current members of the Dad Horse Experience cast are: Dad Horse Ottn (banjo, mandoline), Olaf Liebert (bass), Hanno Janssen / Leander Eilts / Janet Mc'n'Tune / the mighty Schroeder (drums), Ayumi V. Tovazzi / Birgit Hoffmann (violin), Michael Jungblut / Krischan Meyer (electric guitar), Chandler Pratt (acoustic guitar), Matthias Schinkopf (sax, flute, trumpet)and occasional guests.
"His music is one of the best in a style of what we call a "transatlantic feedback." DAD HORSE OTTN combines in his unique way American roots with European traditions, Gospel music with this old White Blues, which had some certain roots in European styles too, and with the timeless power of this Rock'n'Roll, which was never far from Gospel music." — Franz Dobler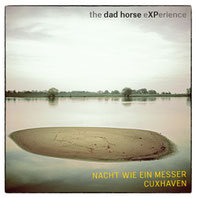 Releases
Since 2008 the Dad Horse Experience released ten records at Devil's Ruin Records (USA), off label records (GER), Fuego (GER), Solitary Records (USA) and Sacred Flu Productions (GER). Selection:
Too Close To Heaven

, 2008

Dead Dog on a Highway

, 2011

Live in Melbourne

, 2012

Best of,

 2015

Huggy Bear Motel

, 2016

Stranger Here Below, 2017

At the Limbo, 2022

Nacht wie ein Messer/Cuxhaven, 2022
Appearances
During the same period the Dad Horse Experience played more than 600 shows all over Europe, UK, United States, Australia and Russia.
Beside countless shows in clubs and theatres thre was also a number of appearnces on the international festival circus like at Mona Foma Festival (Tasmania), Falls Art & Music Fair (Australia), Muddy Roots Music Festival (US), Muddy Roots Europe (Belgium), International Bluegrass Festival Yekaterinburg (Russia, Deep Blues Festival Crissier (Switzerland),to name a few.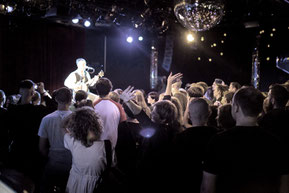 2021, 2022 supported by  Initiative Musik gGmbH
with project funds from the
Federal Government Commissioner
for Culture and Media.
2022 supported by the 
Senator for Culture of the
Free Hanseatic City of Bremen